And Words Are All I Have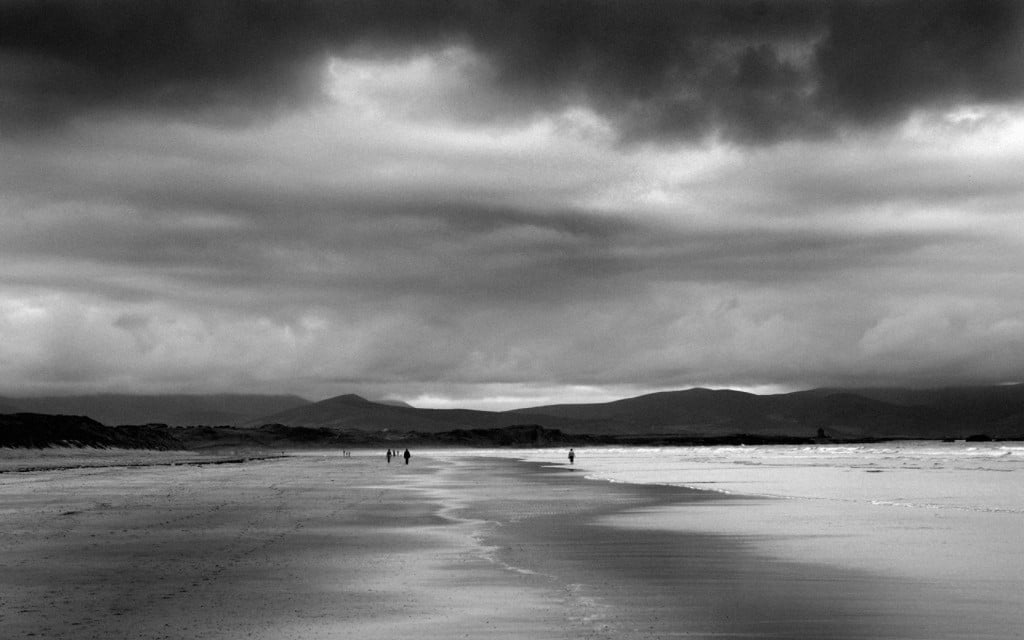 High Dives, Moby Dick's Back Story, Hopper's Best.
At a certain point I need to go wandering. My feet need to hit earth, again
and again, that bone-filling drumbeat. I need the sky's colored threads
to tangle inside me, pull me somewhere new.
~~ Megan Harlan, Mobile Home: A Memoir in Essays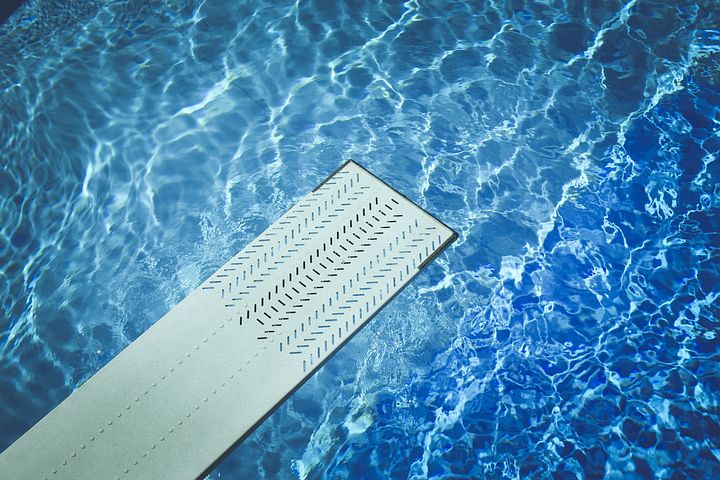 This would be a time capsule of me.
Not of the Western world circa 21st century
or even this particular zeitgeist extraordinaire.
To be unearthed in some distant space and time
to unearth the definitive portrait of me
I'd have to start by including the coffee mug I drank from
that reads Do No Harm But Take No Shit.
A box of Cheerios because I basically lived on them for 20 years.
My books of poetry, I know, predictable, but come on.
That is, if they still speak poetry.
Oh, and my Drafts file on disk
if they still speak disk,
because drafts so often speak louder than polished versions.
A vinyl 45 of I Want to be Bobby's Girl
protected by its original sturdy cardboard sleeve,
to resurrect perfectly my teenaged longing skating on Saturday nights
inside freezing cold arenas, praying underneath my breath
for someone to take my hand so we could go round together.
They'll need my vintage record player too
and can consider it my donation
to whatever brave new world they inhabit,
the inestimable value of which may, alas,
be entirely lost on them.
The record player, not the world.
a black and white photo of me
standing at the very edge of a diving board
high above a crowded community swimming pool,
because I felt the world was waiting for me then.
And it shows I wasn't scared.
Herman Melville, age 21, set sail aboard the whaling vessel Acushnet in 1841 from the port of New Bedford, Massachusetts, bound for the Pacific Ocean.


Melville had no experience as a whaler, and not much as a seaman either, although he'd sailed to Liverpool and back during his few weeks as a cabin boy on a merchant ship. But he loved the sea and was eager to learn. Whaling was still big business in 1841; whale oil from blubber was the most widely available fuel for artificial lights, powering household lamps, streetlights, and even lighthouses.


Melville learned the ins and outs of whaling, helping to harpoon the whales, harvest them, and process their oil aboard the ship. He also listened to the tales his fellow whalers told, particularly of a legendary white sperm whale called Mocha Dick. Knickerbocker Magazine had described the whale in 1939:


"This renowned monster, who had come off victorious in a hundred fights with his pursuers, an old bull whale, of prodigious size and strength. From the effect of age, or more probably from a freak of nature... he was white as wool! Numerous boats are known to have been shattered by his immense flukes, or ground to pieces in the crush of his powerful jaws."


Melville also met the son of Owen Chase, who had survived a whale attack on the Essex 21 years earlier, and he read Chase's account. It gave him material for Moby Dick, which legendarily begins:


"Call me Ishmael. Some years ago — never mind how long precisely — having little or no money in my purse, and nothing particular to interest me on shore, I thought I would sail about a little and see the watery part of the world."


"Sail about a little..." Indeed.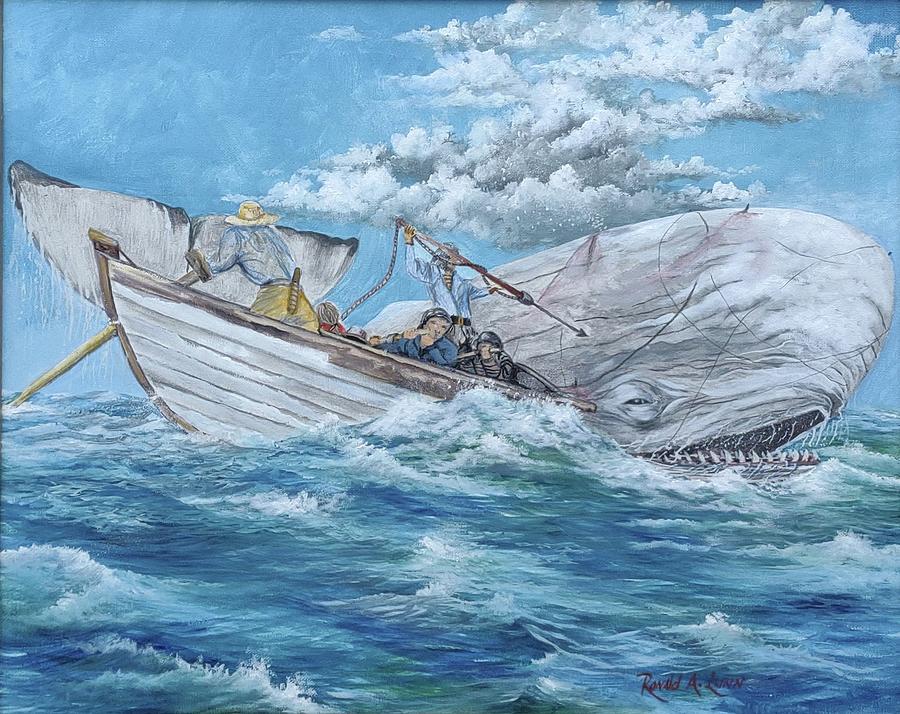 Poets remain - as ever - cutting edge. Entirely relevant.


with clear-cased woofers for heads,
no eyes. They see us as a bat sees
a mosquito—a fleshy echo,
a morsel of sound. You've heard
their intergalactic tour busses
purring at our stratosphere's curb.
They await counterintelligence
transmissions from our laptops
and our blue teeth, await word
of humanity's critical mass,
our ripening. How many times
have we dreamed it this way:
postindustrial terrors whose
tempered paws—five welded fingers
siderophilic tongues seeking blood,
licking the crumbs of us from our beds.
O, great nation, it won't be pretty.
What land will we now barter
for our lives ? A treaty inked
in advance of the metal ones' footfall.
Give them Gary. Give them Detroit,
Pittsburgh, Braddock—those forgotten
nurseries of girders and axels.
Tell the machines we honor their dead,
distant cousins. Tell them
we tendered those cities to repose
out of respect for welded steel's
bygone era. Tell them Ford
and Carnegie were giant men, that war
glazed their palms with gold.
Tell them we soft beings mourn
manufacture's death as our own.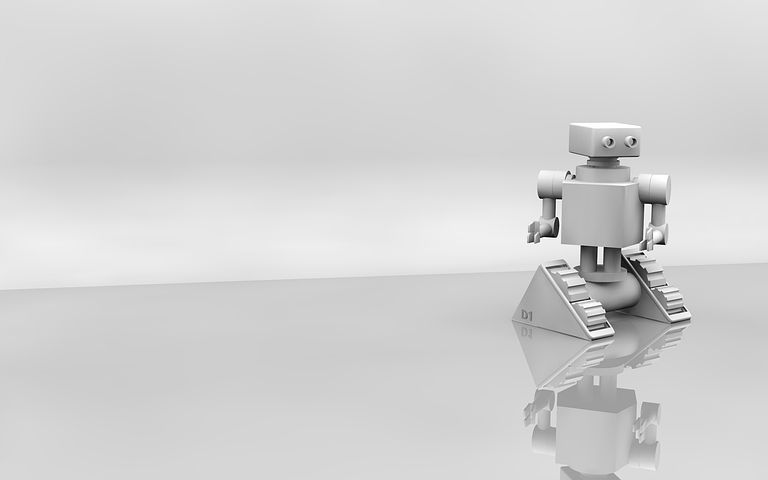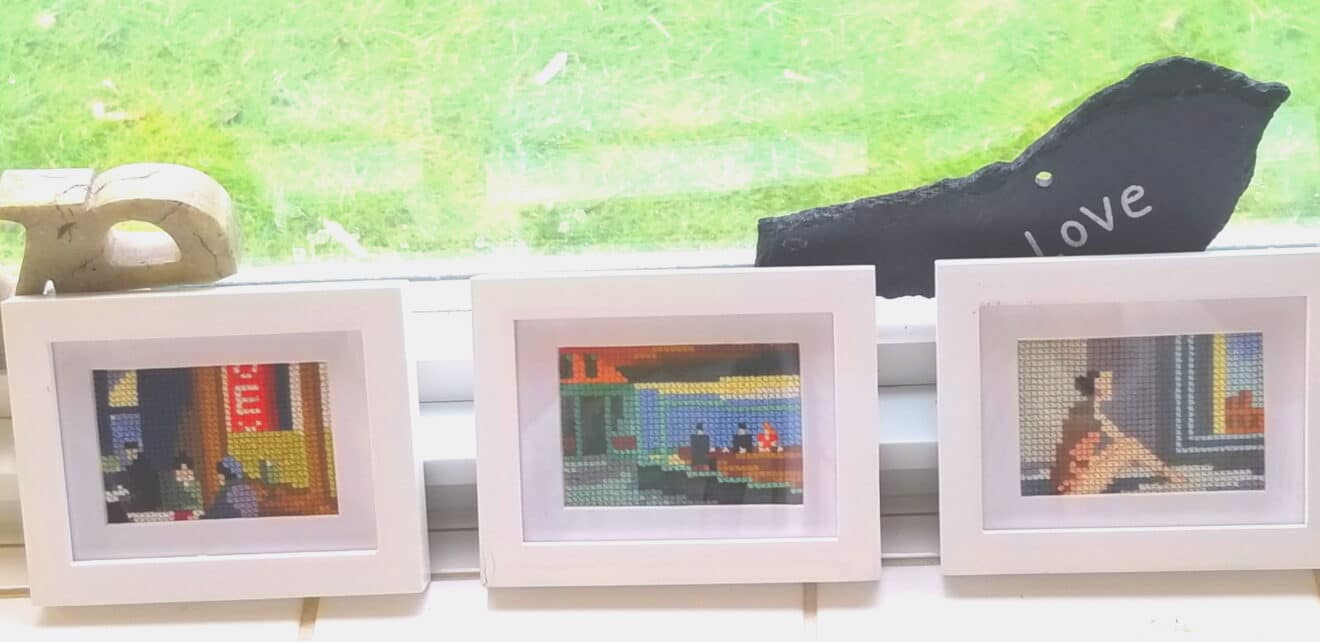 The gifts that stand alone and apart are the ones most personal, those that are lovingly chosen or created just for us.


Here is my Christmas gift from my talented niece Dana. Knowing my enduring passion for the work of painter Edward Hopper, she designed and embroidered these three exquisite miniatures of my most loved of his paintings. Click on each to see Hopper's timeless original drawings. Left to right:


They mean the world to me.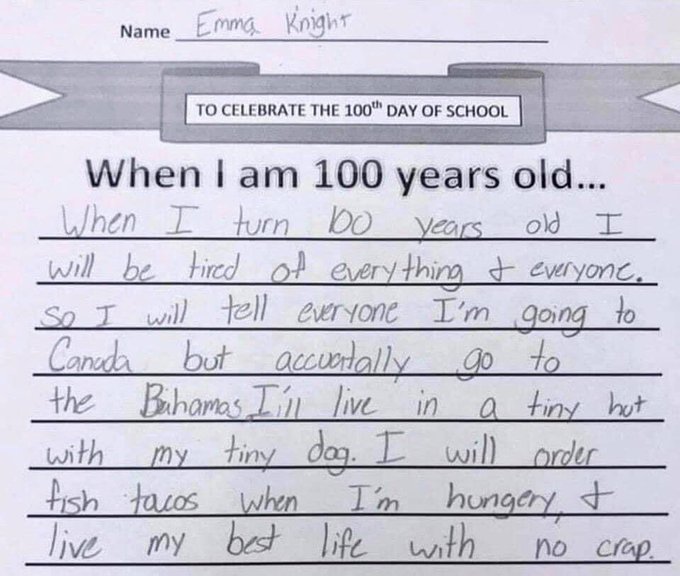 Compassion hurts. When you feel connected to everything, you also feel responsible for everything. And you cannot turn away. Your destiny is bound with the destinies of others. You must either learn to carry the Universe or be crushed by it. You must grow strong enough to love the world, yet empty enough to sit down at the same table with its worst horrors.
The year passes and the old man with the scythe
Is mowing closer. He hasn't been subtle, has he.
Every day a few more people say goodbye,
Which makes me want to be lighthearted, jazzy,
Put out the hors d'oeuvres and the champagne,
Sing God Bless America, You Are My Sunshine,
In My Life, Amazing Grace, Purple Rain,
I'll Be Your Baby Tonight, and Auld Lang Syne.
We've mourned for our dead and been sorry a
Long enough time. Now I take your hand, your
Eyes alight, and let us sing an aria,
To love and beauty and youth and grandeur.
May 2023 bring us before it has flown
What we would have wished for had we only known.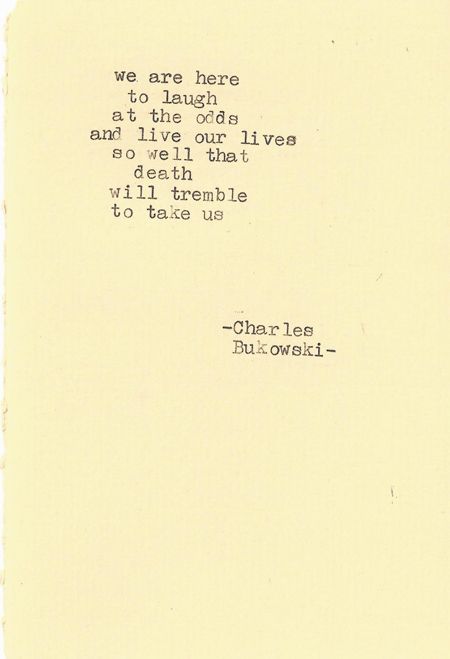 My massage therapist commenting on my pandemic-induced dowager's hump makes me feel even more attractive. #thanks


A 23-yr-old woman in India fought off a tiger with a stick. My cat stole my tuna sandwich right out of my hand.
My wife bought low sodium bacon and now I know what it means when someone says they love you but aren't IN LOVE with you.


Asked the guy at Southwest when we can get a flight home and he said "You live here now."
Kevin Bacon pays off DJs when he attends weddings so they won't play Kenny Loggins' "Footloose."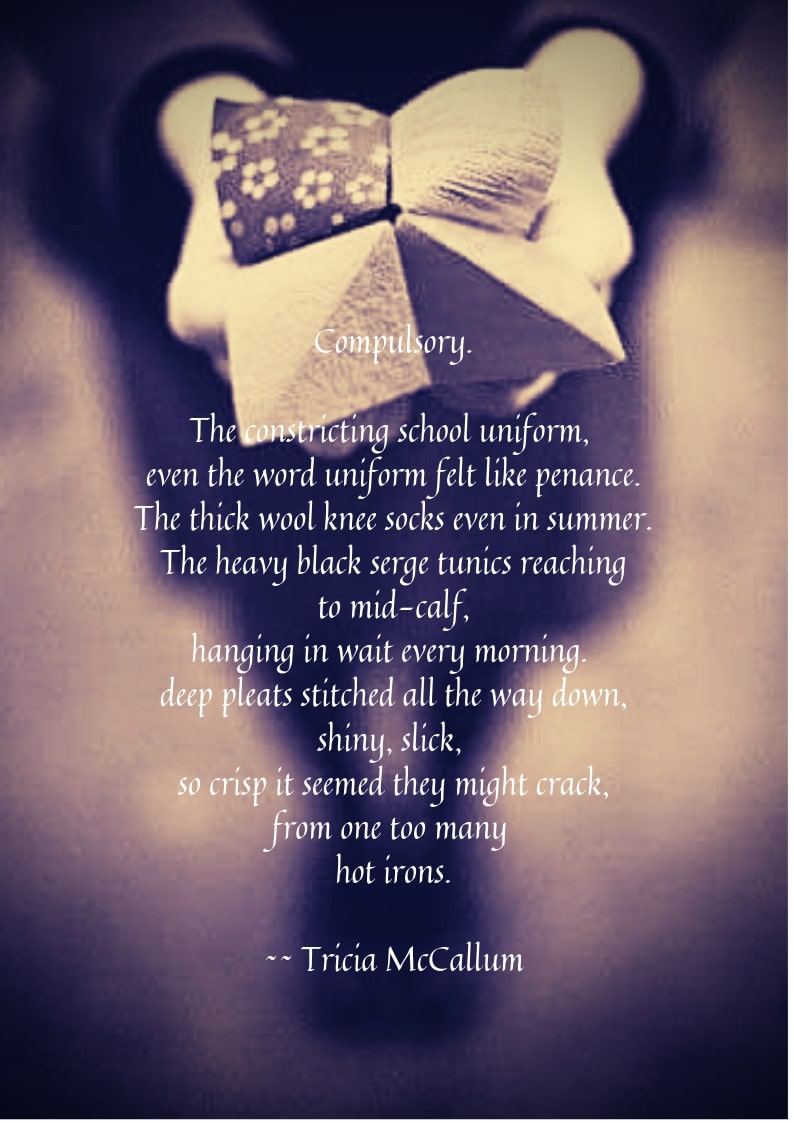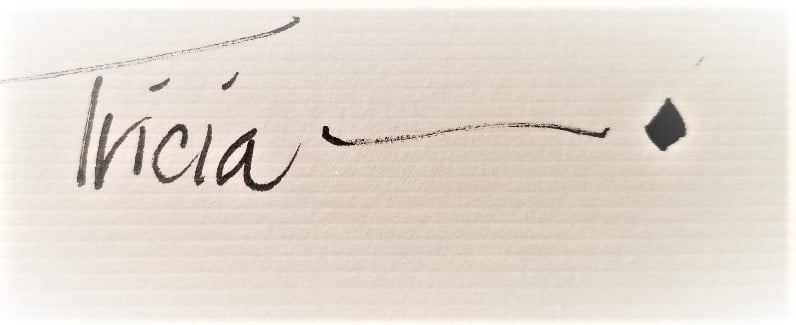 Recent Post
The sky. And the sky above that. The exchange of unmentionables between mouths. Other people's shame. My friend says we never write about anything we can ever figure out. For him, it always involves sadness. For me, it's a language I haven't quite found the language for yet. The astonishing smell of a baby's head. Morning coffee perfectly doctored. Clothes …
Michael O'Donnell didn't return home from the Vietnam War, but his poetry did. Alum Daniel Weiss was so taken by O'Donnell's work that he spent the last decade-plus learning about its author.
This is from an essay by Bret McCabe, himself a vet, published Spring of 2020.


Helicopter pilot Michael O'Donnell could hover near the ground for only a short time before returning to the sky. On the afternoon of March 24, 1970, O'Donnell had guided his Huey below the dense foliage of Cambodia's mountainous northeast region to retrieve an eight-man reconnaissance patrol that had been inserted to gain information on the size and movements of enemy forces but encountered gunfire early on. Three days into a planned five-day patrol, they needed to be evacuated.
O'Donnell, a 24-year-old from suburban Milwaukee, was part of the helicopter rescue mission involving two unarmed transports and four gunships that were dispatched from an airbase in Vietnam's central highlands. After lingering at 1,500 feet, waiting for the recon team to reach the extraction point, one transport had to return to base to refuel. The transport was on its way back when the recon team radioed that it couldn't hold out much longer. O'Donnell dropped his helicopter into a windy canyon and through a small opening in the canopy, lowered his craft to just above the ground. The recon patrol emerged from the jungle with enemy fire trailing after them. It took about four agonizingly long minutes for all eight men to board, a little longer than the average pop song.
After ascending about 200 feet, O'Donnell radioed to air command, "I've got all eight, I'm coming out," right before his helicopter burst into flames, likely struck by a ground-based rocket. The pilot, his three-man crew, and the recon patrol were officially declared missing in action in 1970. O'Donnell wouldn't be declared dead until February 7, 1978. His remains were discovered in 1995 but not officially identified until February 15, 2001. And on August 16, 2001, he was interred at Arlington National Cemetery, which was created as a final resting place for soldiers on land seized from a plantation owner after the Civil War. O'Donnell left behind his wife, his parents, a sister, his best friend and music partner, and a collection of 19 poems, some of which he included in his letters to friends, discovered in his footlocker after his death.
One of those 19 retrieved pieces, printed below, O'Donnell had mailed to his friend Marcus Sullivan in 1970. Sullivan served as a combat engineer in Vietnam from 1967 to 1968, and they wrote each other throughout their training and tours. O'Donnell's daily missions transporting the dead and wounded back from the front lines were taking their toll.
If you are able,
save them a place
inside of you
and save one backward glance
when you are leaving
for the places they can
no longer go.
Be not ashamed to say
you loved them,
though you may
or may not have always.
Take what they have left
and what they have taught you
with their dying
and keep it with your own.

And in that time
when men decide and feel safe to call the war insane,
take one moment to embrace those gentle heroes
you left behind.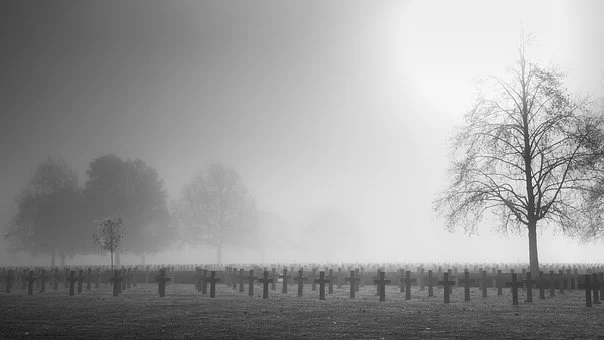 Book Sales
The Music of Leaving, my collection of poetry, is available to order.
Order directly online — for both Canada and U.S. orders — from Amazon, Brunswick and Demeter.