Nothing Gold Can Stay: A Mother and Father Remembered
$19.95 tax incl.
+$8.00 shipping
Hardcover Book
$19.95 online  sale of the book directly from the author includes tax. There is an $8 shipping  fee. Your book will be delivered within nine  days for most destinations by postal service within Canada and the U.S.
Click the Buy Now button above to order.
For shipping outside the U.S. and Canada, please contact the author directly at writer@triciamccallum.com
ISBN 978-0-9866461-0-2
Tricia's hardcover book  "Nothing Gold Can Stay: A Mother and Father  Remembered" has just been published and is now available to order online  via PayPal.
I am  delighted to announce that a sequence of my poems has been published in a  hardcover book entitled Nothing Gold Can  Stay: A Mother and Father  Remembered. Accompanying these poems are prose essays along with evocative  photographs by five award-winning  photographers from around the world.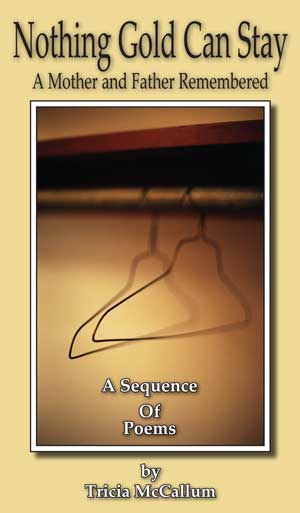 These are  stories from my heart of hearts. I wrote them at the end of my mother and  father's lives and it gave me great comfort. I hope they  offer some solace to my readers as well.
I thank you  for visiting and spending some time with me.
Click play to watch a  short video in which Tricia talks about her book.