I share here a remembrance of Gordon Lightfoot, written after seeing him perform back in 2012 on a rain-soaked evening in Toronto's Massey Hall. I never sought to have it published. I somehow knew it should wait until now.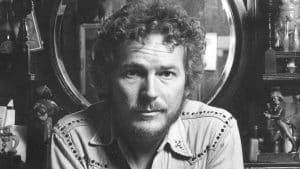 Textbook weather for Gordon's concert this evening: rain-slicked streets, brisk winds, classic moody November evening in downtown Toronto. His band was minimalist, as is his wont. To wit, lead guitar, bass, drummer, keyboards, and himself. None of them under 60. I'd seen a couple of them on stage with him many times before.
Gord struts out with his characteristic long stride, guitar at his hip– on the stroke of eight bells, of course — to thunderous applause, seeming still a little shy and embarrassed by it all, amazingly. (He even joked about the night before how, because of the city's subway breakdown he'd had to start eight minutes later. Eight whole minutes. Oh the horror, he said. And we all knew he was only half kidding.
Opened with Did She Mention My Name? Closed with Blackberry Wine. In between, everything from If You Could Read My Mind to A Painter Passing Through.

The crowd was quiet (save for the one requisite (by then) shout of "We love you, Gord!"  very attentive (dare I say, Canadian?), reflective, appreciative, almost conspiratorial, you know that feeling Gord (and Gord alone) inspires in hometown crowds? It was so obvious everyone there was delighted to see him back onstage for another go.
Yes, he is frail, ravaged, bone thin, and easily looks his age (71). Actually, he looks like any of a dozen down on their luck guys who used to hang around (seemingly in rotation) outside one of the hotels in the small town where I lived as a child. His voice wavers and falters from time to time and he whispers when he should shout, but no matter. His spirit is fully intact. His delivery is so evocative, so exquisite, he reminds you with each outing that he is the one who wrote the stuff – that no one gets it like he does — and no one, of any age or stage, will ever do it better. Michael Buble, take a seat. And hush.
We did hear at least a few pins drop at Massey Hall that night, especially during Song for a Winter's Night. (He rarely does that tune and it was utterly bewitching.) His rendition of Step Back (one of my top five of his) was rollicking, everyone up and rocking, what a great tune that is to move to, and then he headed into Early Morning Rain. Wistful, evocative, iconic, all.
Let it go/Let it happen like it happened once before… from the song Shadows. Another captivating rendition. This one in particular brought to mind Dylan's comment about Lightfoot: "Whenever I hear a Gordon Lightfoot song, I hope it never ends."
His banter with the crowd was so relaxed, so unscripted, he charmed the boots off all of us. He riffed randomly, about writing songs on airplanes, the perfect place for it, he says, with the juxtaposition of stars above, cities below… getting his "shoulders lowered" as a boy at the town barber shop in Orillia, and his joy at being "home" and playing for us again.
A gentleman, pure and simple. And a poet non pareil. By the end, he even makes you believe his lustrous words: "Everything will be fine by and by."
A legendary story about Lightfoot resulted from a concert he did long ago in his hometown of Orillia. A young man in the audience was hit by a flying bottle and had all of his front teeth knocked out. Lightfoot heard about it and went to visit the young boy, on his own, no fanfare. Before he left he gave him a check to cover all his medical expense.
The fire is dying now, my lamp is growing dim
The shades of night are liftin'
The morning light steals across my windowpane
Where webs of snow are driftin'
If I could only have you near
To breathe a sigh or two
I would be happy just to hold the hands I love
Upon this winter night with you.
 Lightfoot didn't care for interviews. Apparently, he was rather shy. But no matter. His songs tell us everything we need to know.
Listen to The Affair on Eight Avenue, for me always his most exquisite song.  https://youtu.be/KTu_Uu0TgTQ
I will miss you, Gord. We all will.